Book Review: The Art of Noticing—131 Ways to Spark Creativity, Find Inspiration, and Discover Joy in the Everyday by Rob Walker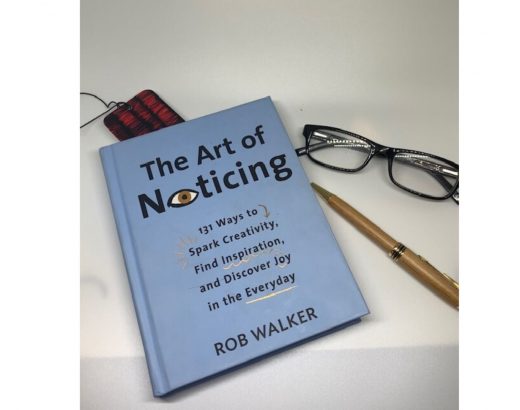 Bookstores are hard to resist for me as I enjoy reading titles of books to see if any of them intrigue me enough to want to take one home. I tend to be a bit of a self-improvement nerd, so the title of this book made me think about my short attention span in what is a fast-paced work environment for most of us. How does one slow down and take notice.? In fact, how does one gain or regain the skill of being observant easily lost in this multitasking, social media world of distractions? All the reasons why I love this book and the many quirky, playful, and creative ways to learn the art of noticing and tuning out all the white noise generated by our phones.
Let me start by saying if you are a creative professional of any kind… a visual artist, writer, teacher, architect, engineer, blogger, and especially a parent of younger children, this book is a must-read. Not all 131 exercises are good; some are actually borderline boring or a bit risky like following a stranger (well, maybe if he is really good looking! ). Just pick those you like and go for it.
The book is an easy read, well organized, peppered with inspirational quotes, and storytelling. Walker speaks to the idea of "paying attention" as a muscle that needs a constant workout crucial to the creative process….." the ability to notice that which previously seemed invisible to everybody else."
As a photographer and solo traveler, this book has been an excellent reference guide as I seek to regain my focus, paying a bit more attention to my surroundings pushing aside the many distractions that keep me from being as creative.  I have already marked my copy with notes and plans on its usage.
If you are looking for ways to broaden your lens in seeing the world just a bit differently and pushing your imagination, this just may be worth an investment of your time. The book is hardcover and small and fits in any regular size pocketbook.  You can click here to purchase the book from Amazon for $16.39 book;  $11.99 tablet.   (Barnes & Noble sells the book for $20.00.)