Rosca de Reyes,"….a Traditional Recipe for Celebrating Three Kings Day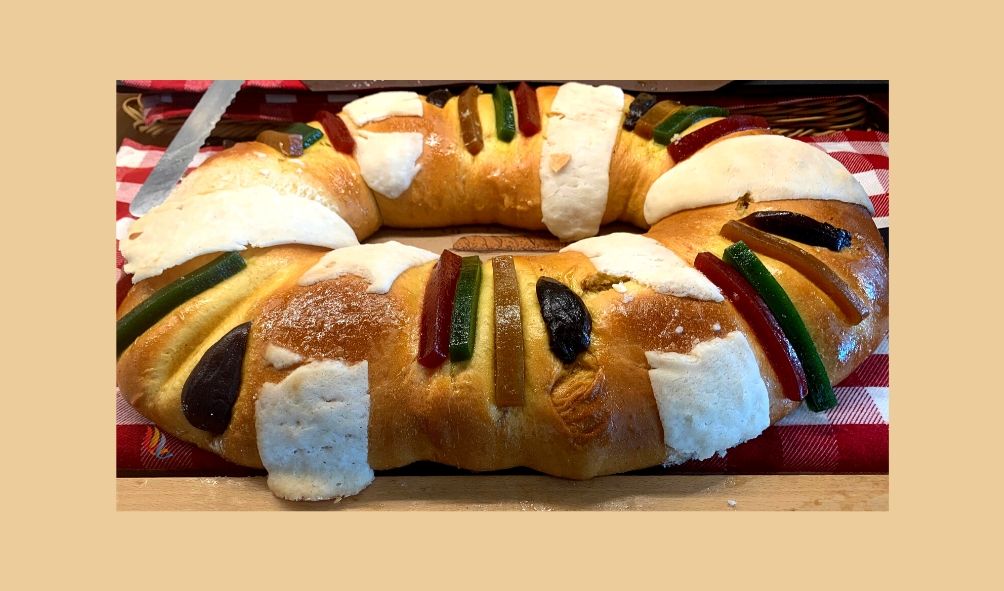 This year's pandemic holidays may tempt some of us to do something slightly different such as celebrating traditions common on Three Kings' Day ("El Dia de los Reyes").   So what exactly are some of these traditions?
First of all,  a bit of history. For many throughout the world, the holiday season officially ends on January 6th,  twelve days after Christmas, known as the Feast of the Epiphany, or Three Kings' Day, when three wise (rich) men ended their search bringing gifts to baby Jesus.  This holiday of gift-giving is celebrated all over Europe, Latin countries and has been steadily growing in the US among Latinos and other cultures.
For most (not all)  this holiday, which includes gift-giving, is also celebrated with a special cake baked for this occasion.  It's interesting to see the different ways that countries celebrate this cake tradition that began in France. For instance,  the
gâteau des rois
is a sweet brioche bread topped with candied fruit and sugar, including a trinket; whoever finds it inside their slice of cake will become king or queen for the day.
In Mexico, as in many Latino countries and southwestern states, the cake is celebrated with families and friends only on Jan. 6  along with the gifting of toys to children. Whoever gets the baby Jesus trinket baked in the cake has to host a tamales party during the first week of February, which is "
El Dia de Candelaria,
" a day of church-going and visiting family.
Mexicans refer to the sweet cake as "Rosca de Reyes," or King's Cake. "Rosca" means wreath, and "Reyes" refers to kings.  As seen in the photo, The Rosca de Reyes has an oval shape to symbolize a crown with dried and candied fruits to symbolize the many jewels that a crown would have. The trinket baked in the cake symbolizes the hiding of the infant Jesus from King Herod's troops.
 The Three King celebration in the Caribbean islands(Puerto Rico, Cuba, Santo Domingo)  does not do the cake thing; however, why not adopt such a lovely tradition during the holiday  (well, maybe minus the tamales).
The most popular version of all King's Cake celebration is held in
New Orleans
, where eating this sweet bun starts on Jan. 6 and continues through the Mardi Gras festivities ending with Fat Tuesday and, in some cases, longer. In fact, the King's Cake with its purple, gold, and green frosting has become an essential iconic symbol for the Mardi Gras festivities and the city of New Orleans and as such has become a significant moneymaker now that the cake is eaten during other celebrations and events such as football (so much for tradition).
Looking to celebrate Three Kings Day this coming year?   (Why not?  what else is there to do during Covid?)  If so, I found this recipe for baking this sweet bun Latino style.  Don't forget to buy the baby Jesus trinket as a blessing in the new year.
Rosca de Reyes (Three Kings Bread) Recipe 
Makes 8 to 12 servings
Rosca de Reyes is sometimes compared to the king cake used to celebrate Mardi Gras in New Orleans, though it is different. Adapted from the
Food Network
,
this recipe kneads candied fruit into the dough, but roscas tend to be bare inside. If you want to go authentic, reserve the fruit for the top only.
Ingredients• 1 (1/4-ounce) packet active dry yeast, or 2 1/4 teaspoons loose yeast• 1/4 cup warm water• 1/4 cup dried figs, cut into strips, plus more for garnish• 1/4 cup candied orange peel, cut into strips, plus more for garnish• 1/4 cup candied lemon peel, cut into strips, plus more for garnish• 1/4 cup chopped candied cherries, plus more whole for garnish• 2 tablespoons light rum• 1/4 cup milk• 1/4 cup sugar• 1/4 cup (1/2 stick) unsalted butter• 1 teaspoon pure vanilla extract• 1/4 teaspoon ground cinnamon• 1 teaspoon salt• 3 1/2 to 4 cups all-purpose flour• 3 large eggs, divided (but not separated)• Water.
Instructions
In a small bowl, combine the yeast and warm water; stir to blend. Let stand until the mixture foams, about 5 to 10 minutes.
In another small bowl, put all the candied fruit and drizzle with the rum. Let stand for 15 minutes to 1 hour to soak up the flavor.
In a small pot, warm the milk over medium heat. Add the sugar, butter, vanilla, cinnamon, and salt.
In a large bowl, mix 3 1/2 cups flour, 2 eggs, yeast mixture, milk mixture, and the rum-soaked candied fruits, mixing very well until the dough gathers into a ball. If the dough is too wet, add additional flour, a little at a time, to form a soft dough. Turn the dough out onto a lightly floured surface and knead until it's smooth and elastic, about 5 minutes. Put the ball of dough back into the bowl and cover with plastic wrap or a kitchen towel, and set aside in a warm spot to rise for 1 hour.
Remove the dough from the bowl and knead on a lightly floured surface. Using your palms, roll the dough into a long rope. Shape the rope into a circle, sealing the ends together. Insert a little doll or coin into the bread from the bottom, if desired (make sure you tell people it's in there, so no one chokes). Line a baking pan with parchment paper. Carefully transfer the dough ring to the prepared baking pan.
Preheat the oven to 350 F.
Beat the remaining egg in a small bowl with 1 tablespoon of water to make an egg wash, and brush the top of the bread. Decoratively garnish the top of the bread with more candied fruit and bake for 35 to 40 minutes until the cake is golden.
Cool on a wire rack before slicing.
The photo of the Rosca was taken in Nuevo Vallarta in Mexico during Epiphany week.